Huawei Cloud Fabric Network Solution
At the Interop International Communications Exhibition in May 2012, Huawei shocked the launch of the CloudEngine series of cloud-class switches for next-generation data centers. Including the world's highest configuration flagship core switch CloudEngine 12800 series, and high-performance box switch CloudEngine 6800 /5800 (10GE / GE access) series.
At the same time, based on the CloudEngine (hereinafter referred to as CE) series of switches and complete transmission, routing, security and network management products, Huawei has released a Cloud Fabric solution for the next generation of cloud computing data centers, aiming to create a stable ten-year life for customers. Network Architecture.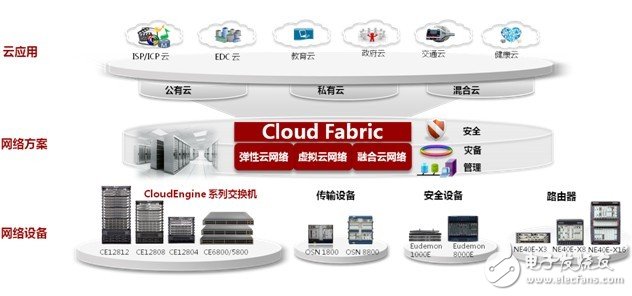 Huawei Cloud Fabric network solution advantages
Cloud Fabric solutions help enterprise users and operators build a 360T non-blocking switching platform that provides access to tens of thousands of 10GE/GE servers with "Scalable Fabric", "Virtualized Fabric" and "Converged Fabric" Big core advantage.
Scalable Fabric
Elastic network for the next ten years: CloudEngine series switches can provide up to 360T non-blocking switching network to meet the 4th generation server evolution requirements from GE/10GE to 40GE/100GE. The network architecture is stable for a long time, and it is easy to meet the trend of 10GE servers.
The world's highest configuration core switch: CE12800 single slot supports 2Tbps bandwidth (one-way), the whole machine supports 48Tbps switching capacity; also supports 8*100GE, 24*40GE/96*10GE and other ultra-high performance boards, the whole machine is the largest It can support 96 100GE, 288 40GE or 1152 10GE full line speed interfaces, and is a well-deserved industry benchmark for core switches.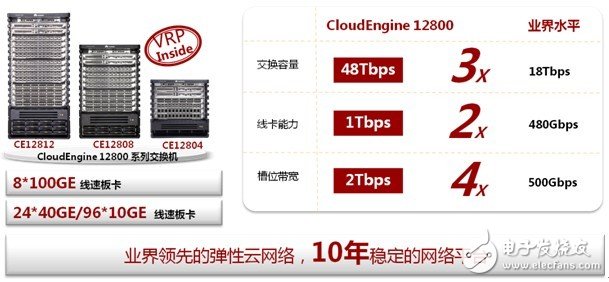 The full range of TOR supports 40GE: CE6800 and CE5800 provide ultra-high-density 10GE and GE server access capabilities. The full range supports 40GE uplink interfaces, and the forwarding performance is industry-leading.
Non-blocking CLOS switching architecture: The CE12800 core switch adopts a non-blocking CLOS switching architecture and dynamic distributed large caching technology (100ms/port) to face sudden traffic problems caused by cloud computing applications (such as search and collaborative computing). Ensure that the service exchanges zero packet loss.
Highly reliable system redundancy design: The CloudEngine series has superior reliability and guarantees uninterrupted operation of the business. The key components of the CE12800 (main control board, switch board, monitoring board, power supply, and fan) are all redundant. The CE6800/5800 supports power supply and fan redundancy and supports hot swap capability.
Strict front and rear air duct design: CloudEngine series adopts the front and rear air duct design which is most suitable for the data center equipment room, and the hot and cold air ducts are strictly isolated.

Wireless Charger,Smart Wireless Charger,Wireless Car Charger,Wireless Charger Led
Dongguan Fangbei Electronic Co.,Ltd , https://www.connectorfb.com