Dialog Semiconductor, Inc. (FLX: DLG), a highly integrated power management, AC/DC power conversion, solid state lighting (SSL) and Bluetooth low energy wireless technology provider, today announced the launch of an active headset. The open audio platform IC--DA14195. The product is packaged in a small 0.4mm pitch WLCSP package that provides extremely low power consumption and excellent processing performance. It brings the performance of high-end professional headphones to the mass consumer market, including environmental and echo noise cancellation, virtual surround sound and voice control. The product supports up to six microphones to form a beam, helping to enable innovative location-aware applications.
This article refers to the address: http://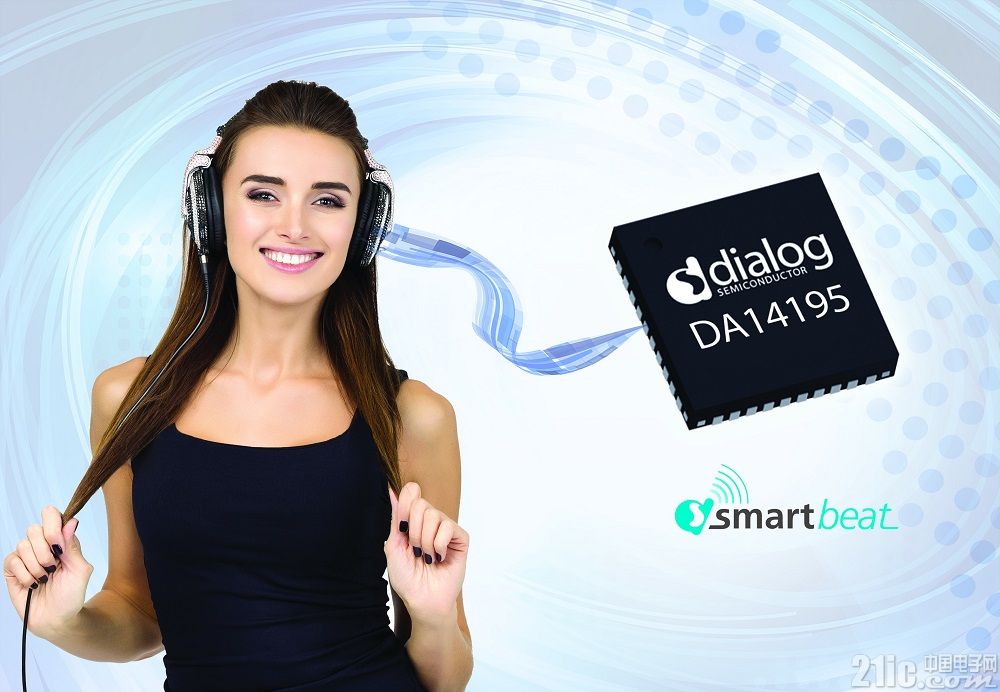 The SmartBeat DA14195 integrates a 32-bit ARM® Cortex®-M0 microcontroller with a maximum operating frequency of 165 MHz and a C-programmable 32-bit Cadence (Tensilica) HiFi 3 DSP with a maximum operating frequency of 290 MHz. Performance optimized and low power solution. The MCU can be dynamically frequency modulated to further reduce power consumption, while the DSP also has extensive third-party audio algorithm support.
With an integrated step-down converter, the DA14195 can be powered directly from a USB or 1.9-5 V battery. High-precision fuel gauges maximize battery life and mean users always know how long their music can play. The DA14195's shared memory architecture includes onboard cache, system RAM, and DSP RAM. To provide maximum design flexibility, MCU code and DSP code can be stored in an external QSPI flash memory to adjust memory size and cost for the application.
The DA14195 is an open audio platform that can be used with any audio codec, including the Dialog's DA7217. This advanced codec delivers superior power/performance ratios and includes voice triggering to monitor voice commands and wake up the DA14195 for command recognition.
Modular and open software architectures enable an ultra-versatile and easy-to-expand software platform. It provides all the necessary modules and flexibility to help developers create differentiated solutions. Power management is the core component, and the flexible audio API supports the independent creation of multiple streams of data. The software source code is public so that the user can achieve full customization.
Sean McGrath, senior vice president and general manager of the Connectivity, Automotive and Industrial Division at Dialog Semiconductor, said: "As a leading provider of professional wireless headset ICs, we are excited to be able to expand our technology and bring these advanced features to the fast. Growing headset consumer market. The DA14195-based headset enables consumers to connect to personal and online content libraries using USB high speeds at data rates up to 480 Mbps. In addition, the DA14195 is fully compatible with next-generation smartphones and computing connectivity. Option USB 3.0 type C."
Samples of the DA14195 are available in a small size 81-bump 0.4mm wafer level chip package (WLSCP), which will be available in volume in the fourth quarter of this year.
Dialog's DA14195 and other audio, power management and Bluetooth low energy based solutions have been demonstrated during the 2016 Asia Consumer Electronics Show (11-13 May 2016, Shanghai, China).
key chains,liquid keychains,custom pvc keychains,metal keychains,fancy key chains,custom key chains, keychain for kids,keychain for lady
Shenzhen Konchang Electronic Technology Co.,Ltd , https://www.eclinusb.com