Foshan, Guangdong, February 15, 2017, Guangdong Gaoyun Semiconductor Technology Co., Ltd. (hereinafter referred to as "Gaoyun Semiconductor") today announced the development of an LED display control system based on the GW2AR series of FPGA chips from the medium density Chenxi family. Design solutions, including: complete solutions for development boards, related IP soft cores, and reference designs.
The development board adopts the architecture of FPGA device combined with Gigabit Ethernet interface and 64 Mbit SDRAM, and has RJ45 interface embedded Gigabit network transformer, which can provide LED industry users with high integration and good performance hardware development platform. At the same time, the GW2AR-18 FPGA device in the development board adopts the LQFP144 package form and integrates SDRAM internally, which further reduces the application cost of the hardware platform.
Mr. Gao Junjun, Senior Manager of IP Development Department of Gaoyun Semiconductor, said: "The LED display control system development and design solution provides users with a simplified design and cost reduction reference design, including: SDRAM controller IP soft core and Gigabit Ethernet Interface, in which the SDRAM controller IP soft core can help users realize the data read and write function of the SDRAM memory chip, meet the LED usage requirements, the interface can reach the read/write rate of 166MHz or more; the Ethernet interface controller realizes the Ethernet interface data transmission function. It can complete Ethernet data transmission and reception, verification, flow control, data buffer and other functions, providing a complete reference design for LED application and development, helping users to shorten the product development cycle as much as possible."
"LED development design solution is the current application status of Gaoyun Semiconductor for the LED industry. It has customized reference designs for industry users in terms of chip storage functions, data reading and writing, data transmission, etc." Mr. Shen Qi, Director of Gaoyun Semiconductor Marketing Department In this way, "The GW2AR series FPGA devices used in this solution have the characteristics of low power consumption, high performance, multi-user I/O, and rich user logic resources, and integrated large-capacity SDRAM, the introduction of the overall solution. Designed to reduce product development risks and help users achieve better product innovation."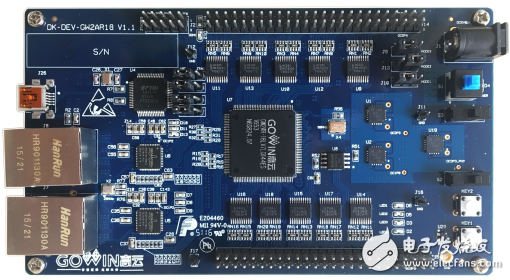 The structure and characteristics of the LED development board are as follows:
1. GW2AR-18 FPGA chip
· LQFP144 package
· 117 user I/O
· LUT4 number is 20,736
· S-SRAM capacity is 41,472bits
· B-SRAM capacity is 828Kbits
· SDRAM capacity is 64Mbits
· 4PLL + 4DLL
· Support multiple data stream file configuration (MulTIboot) and remote upgrade
· Support 128-bit key and encrypted data stream file (EncrypTIon) configuration
· Supports compressed data stream (Compression) configuration
· Support 1.0V core voltage
2. 2 Gigabit Ethernet interfaces
3. 22 RGB output
4. 3-channel DC/DC converter circuit
5. USB and JTAG download circuit
6. 64Mbits SPI Flash Memory Module
7. 50MHz clock crystal
About Gaoyun Semiconductor:
Guangdong Gaoyun Semiconductor Technology Co., Ltd. was established in January 2014. The company is committed to developing domestic FPGA solutions and promoting its industrialization. It aims to launch a national brand FPGA chip with core independent intellectual property rights. The company aims to provide users with the highest quality service, and can provide one-stop services including chips, design software, soft core, reference design, and demonstration board.
For more details, please log in: http://.
Meet safety requirement such as GB31241, UL1642, IEC62133 etc; Targeted R&D, support customization. high safety battery, rechargable battery, li battery, quick charge battery, high capacity battery, ultra thin battery, steel cylilndrical battery.
A lithium polymer battery, or more correctly lithium-ion polymer battery is a rechargeable battery of lithium-ion technology using a polymer electrolyte instead of a liquid electrolyte. High conductivity semisolid (gel) polymers form this electrolyte.

12V Lipo Battery,Lithium Ion Polymer Battery,Lithium Polymer Rechargeable Battery,1800Mah Lithium Polymer Batteries
Shenzhen Glida Electronics Co., Ltd. , https://www.szglida.com