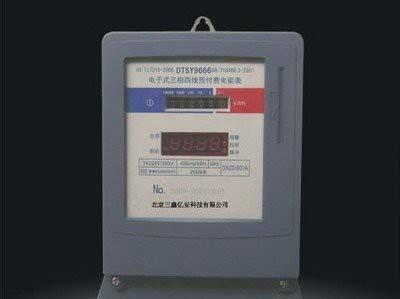 The smart meter has the main features of informationization, digitization, automation and interaction. After the collector is installed, the meter can also be automatically read by the computer remotely, which can greatly improve the accuracy of meter reading and work efficiency, and effectively avoid the error of manual meter reading. . Since the beginning of this year, Wenzhou Power Supply Company's smart meter application and promotion plan has been carried out in an orderly manner.
Intelligent collectors in smart energy meters can also report information such as running devices through remote acquisition devices, and automatically discover electrical energy meter failures and other intelligent functions. After understanding the functions of smart meters, Mr. Ye repeatedly nodded: After installing smart meters, he used electricity. It's much more convenient, and you can always grasp the power situation. I have to pay more for a one-time charge!
According to the staff of Wenzhou Power Supply Company, the replacement cost of smart energy meters is entirely borne by the power supply company. Since 2010, the company has replaced the smart energy meter for 551,252 users in the city of Wenzhou for free. Up to now, the city of Wenzhou has completed the installation of 161,000 smart energy meters this year. The power supply department plans to complete the overall promotion of smart energy meters within the city by the end of 2015.
The popularization and promotion of smart energy meters has not only brought convenience to the residents' electricity use but also eliminated the limitation of man-made meter reading. It is also a big step in the technical field of Wenzhou Power Supply Company, greatly regulating meter reading fee management. With the promotion of smart watches in the city, Wenzhou residents will experience the convenience and quickness brought about by smart life.
It is the thinest phone case made from bullet-proof materials. It is the world's first modular magnetic wallet made from carbon fiber.
It is all about your carrying experience. It is a magic world of seamless carrying experience. And that makes you being different from anyone else.
Exclusive Material. Slim Fit and Sensuous With "Body Armor Grade" material, made of 100% Aramid Fiber. Now, your phone is protected with the same material used in body armor, spacecraft, jet engines, and Formula 1 Race cars. Yet, it retains the thinness of your iPhone the day you purchased it -- before it was covered up with an thick bulky case.
Wireless charging friendly. Bring you the best carrying experience and wireless charging experience by using with PITAKA magnetic car mount(Magmount Series), the unique transit free design with metal plates inside makes you can use PITAKA car mount freely without sticking adhasive metal plate on your device. Yet,no interference to your wireless charging,WIFI,GPS,Apple Pay or your signals.

A Soft 3D-Grip touch. Texture you need to feel to believe. It almost clings to your hand without feeling sticky. A protective three-layer coating and manual polishing is applied to each phone case.
Enjoy your "almost naked" iPhone with a case that is thinner than a dime. Thickness 0.03in. Min. Weight 0.49oz. So light that you even will not feel the weight increase to your phone. Well protect phones from most of the daily drops.
iPhone Case,Waterproof iPhone Case,iPhone 7 Case,iPhone 8 Case
Shenzhen Aokal Technology Co., Ltd. , https://www.aokal.com